All of the four-legged creatures in the family have been either spayed or neutered. Querida got her spay operation done when she was six months old, in October of 2004. Although she is cute as she can be and, presumably, any babies she has would also be cute - it is impossible to be sure that homes found for her babies would be good and safe homes for the rest of those bunnies' lives. In addition, female rabbits are very susceptible to uterine cancer (60-80% un-neutered females will develop it in their lifetimes). Therefore, not only will the operation free her from adding more bunnies to an already burgeoning population - it will protect her from a fatal disease.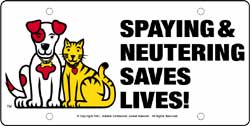 Here are links to stories about the other denizens of the kingdom:
The Court Bard
-
Juby
, the English Sparrow: Comical and Charming, He's Danny Kaye in a Bird Suit
Although he is usually a very dignified fellow, as befits his position as El Capitan de Los Protectores Reales, Pal occasionally has an attack of silliness, as you can see here.